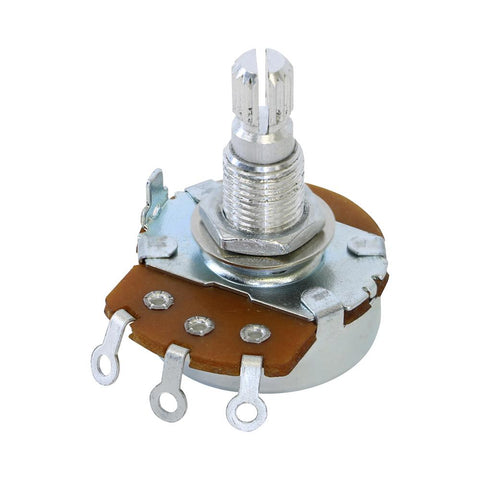 Alpha 25k Potentiometer for Active System 8mm hole, Metric, 18 Spline Coarse Split Shaft, high torque 3/8 inch
Product Description
Time to replace your pots with the time-tested factory potentiometer - Alpha.

Alpha is an industry name in affordable but reliable potentiometers..
250k is best used with single coil pickups such as strat, tele, Jazz Bass, P-Bass. 
Metric 8mm bushing diameter is perfect for Asian-made guitars with small hole such as Ibanez, Squier, JCraft, Cort, Tagima, Epiphone, Elegee, D&D, etc. 
Specs for this Stock:
| | |
| --- | --- |
| Value | 25k  |
| Type | Big Body |
| Bushing Diameter | 8mm (fits most Asian/Japan-made guitars) |
| Bushing Length | 3/8 for pickguard or control plate installations |
| Taper | Linear or Audio / Log Taper (pls select variant) |
| Shaft | 18 Coarse Spline, Solid Shaft |
| Torque | High Torque |
---
We Also Recommend
---