TC Electronic Forcefield Compressor Pedal
Product Description
Classic Compressor/Limiter Pedal with Endless Sustain
Product Features
Studio quality compressor / limiter Pedal

Endless sustain with ultra-stable dynamics

Smoothens volume peaks

True Bypass for ultimate signal integrity

"Built-like-a-tank" metal chassis

Runs on 9 V battery or the TC Electronic Powerplug 9 (not included)

3-Year Warranty Program*

Designed and engineered in Denmark
FORCEFIELD COMPRESSOR
FORCEFIELD COMPRESSOR provides all the sweet vintage dynamics control that the legends of rock 'n' roll and country music were built on. From the subtle sustain enhancement that gently boosts a sweet, but softly played interlude or blues passage, to the full-on hard-knee compression that makes your guitar pop in the mix – you'll find it all and more here in the FORCEFIELD COMPRESSOR.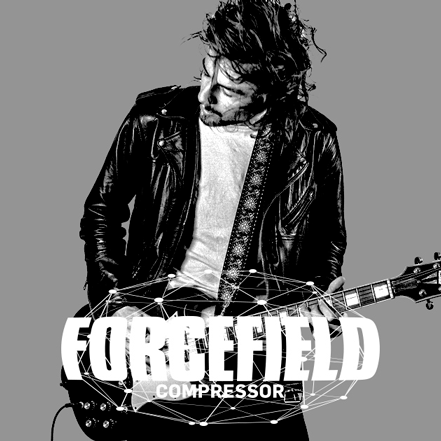 All-Analog Awesomeness
By its very nature, compression is one of the most difficult effects to explain, but here goes… By controlling the maximum level of a signal, a compressor limits the dynamic range, while maintaining a higher average loudness. You can use compression to: reduce really loud passages; or bring up the level of the most-subtle nuance – and sustain it for days. You often feel compression more than you hear it, and when applied properly, it can either be sweet and smooth, or tight and punchy. FORCEFIELD COMPRESSOR's vintage circuit design lets you tap into everything from the sweet sag of a tube amplifier, to the unapologetic smack of a sledgehammer!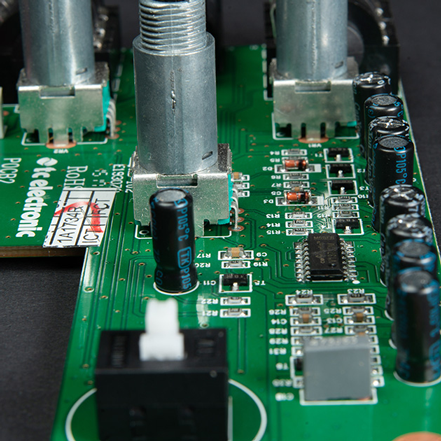 Old-School Feel
Vintage analog compression differs greatly from modern studio compression. Instead of the ultra-glassy transparency of high-end rack gear, you get generous gobs of warmth and the smooth tonal characteristic that has shaped the sound of rock and country music from their early beginnings. From sublime, bluesy sustain of classic rock, to the snap of country chicken-pickin' that pops out of the mix beautifully – you get it all with FORCEFIELD COMPRESSOR.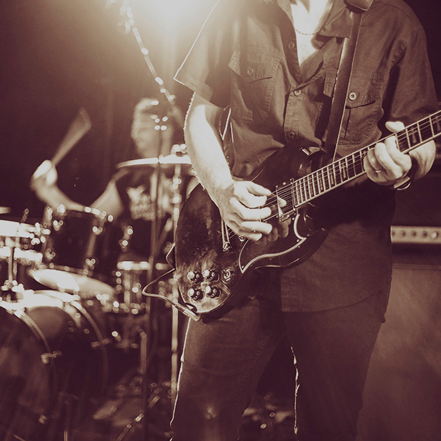 Classic Tone – Modern Features
A sturdy metal chassis with dedicated Input, Output and True Bypass means that FORCEFIELD COMPRESSOR is equally roadworthy and pedalboard friendly. You can power it with a 9V battery, or use our convenient POWERPLUG 9V adapter.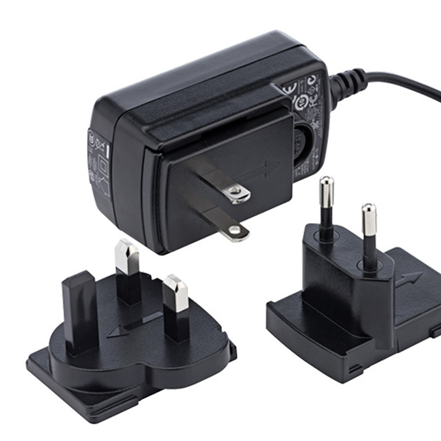 Backstage Pass – All Access
Capable of a vast range of dynamic expression, FORCEFIELD COMPRESSOR sports an easy-to-use control layout including: Sustain, set the amount of signal compression; Attack, controls how fast the compression is applied; and Level, which sets the output volume to make up for gain loss – or for using your FORCEFIELD COMPRESSOR as a solo booster. Nothing is easier!
Check out FORCEFIELD COMPRESSOR at your local TC ELECTRONIC dealer today, or get yours online – and change the weather where you live!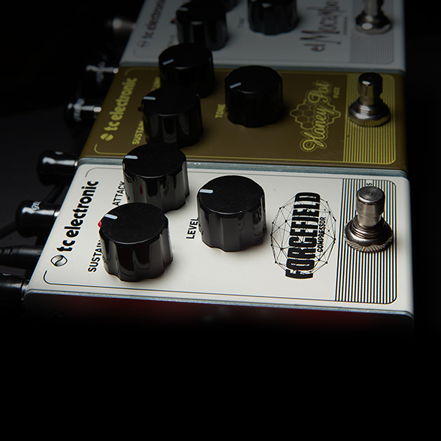 Specification
Specs
| | |
| --- | --- |
| Headroom (Max. Input Level) | -1dB |
| In | >350KΩ |
| Out | 1KΩ |
| Noise floor | -65dB |
| Frequency range | 20-20KHz |
| Max ratio | 1.667361111 |
---
We Also Recommend
---