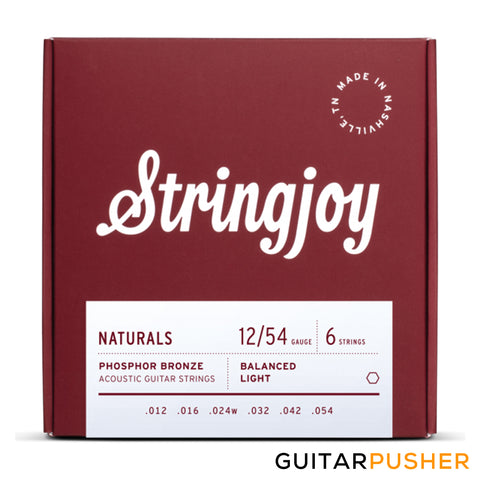 Stringjoy Acoustic Guitar String Set Light - Natural Bronze 12s (12-54)
Product Description
So, youre looking for just the right amount of tension, and the right amount of tone? Our Light gauge isan excellent choice for most guitarists as it has the perfect balance of low-end and midrange volume, without being too hard on the callouses.

Our Natural Bronze alloy is a particular take on Phosphor Bronze, aimed to reveal the authentic, woody characteristics of an acoustic guitar. It this rich copper alloy thatgives these strings a distinctly warm, resonant tone, and also a beautiful rose gold color. As an added bonus, component agents in this alloymake these strings especially resistant to corrosion.

Give your own acoustic the strings it deserves, a set that will bring out its natural character and keep it sounding great for longer.Hit the big blue button below to add these to your cart.
Gauges:
.012 - .016 - .024w - .032 - .042 - .054
WHAT SHOULD YOU EXPECT FROM STRINGJOY NATURALS?
A full, woody, natural tonality that brings out the true voice of your guitar, and the details of your playing style.
An balanced set strings, great for taming harsh highs on overly bright guitars, or accentuating the bottom-end character of larger-bodied guitars.
An extended lifespan compared with our Brights, due to the corrosion-inhibiting effects of the phosphorous in phosphor bronze. One the initial "string zing" wears off and these hit their sweet spot (typically within a day or two), these will keep that "sweet spot" tone for longer.
HOW DO WE MAKE OUR STRINGS?
Stringjoy Naturals acoustic guitar strings are made by a small team in Nashville, TN, USA, out of all-American materials: our top quality Phosphor Bronze alloy, wound around a high carbon hexagonal steel core wire.
The combination of better materials and more careful craftsmanship creates a more natural-sounding, longer lasting string, without the tone-deadening effects of string coatings.
We're known for our quality control. Our strings are wound in small batches, and we use real human beings at every step of the process: the winding, the coiling, the packing, you name it.
Every string is inspected individually before it goes into your set. If anything is wrong with a string, from the way it's secured around the ball end, through the entire winding, it doesn't make the cut.
WHAT DOES ALL THAT MEAN FOR YOU?
✓ Better tuning stability for the life of the string
✓ A brighter, more pronounced sound from the guitar
✓ Longer string life and less breakage, when cared for properly
✓ Smoother, more balanced playability across the neck of the guitar
---
We Also Recommend
---