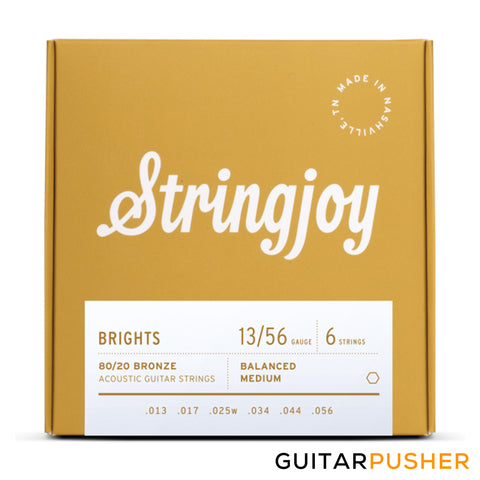 Stringjoy Acoustic Guitar String Set Medium - Bright Bronze 13s (13-56)
Product Description
Our Medium gauge Brights are perfect for those players who want a big, warm, beefy tone out of their guitar that will project with plenty of volume and definition. Coupled with the brilliant top-end of our Brights, these strings make for a super loud combo that can be heard by anyone within a five-mile radius.
Our Brights feature an 80/20 Bronze alloy that gives your acoustic guitar the present, punchy, articulate tone it needs to cut through any mix like a hot knife through butter. Equally suited to fingerstyle and picked techniques, this is the perfect choice for any player that requires a crisp, brilliant top-end, with an equally vibrant low-end.
One thing is for certain: these strings really kick some brass.
Give your own acoustic the strings it deserves, a set that will make it stand out from the crowd.
Gauges: .013 – .017 – .025w – .034 – .044 – .056
WHAT SHOULD YOU EXPECT FROM STRINGJOY BRIGHTS?
A brighter-sounding string with a full, rich bottom-end reminiscent of vintage acoustic guitar tones of the 50s and 60s.
An extremely resonant set of strings, great for breathing new life into darker acoustic guitars, such as those with mahogany bodies.
A shorter lifespan relative to our phosphor bronze Naturals. 80/20 Bronze lacks any sort of natural corrosion inhibitor (such as the phosphorous in phosphor bronze), so it can age more quickly.
HOW DO WE MAKE OUR STRINGS?
Stringjoy Brights acoustic guitar strings are made by a small team in Nashville, TN, USA, out of all-American materials: our top quality 80/20 Bronze alloy, wound around a high carbon hexagonal steel core wire.
The combination of excellent materials and more careful craftsmanship creates a more resonant string with a fuller tonal range and excellent durability.
We're known for our quality control. Our strings are wound in small batches, and we use real human beings at every step of the process: the winding, the coiling, the packing, you name it.
Every string is inspected individually before it goes into your set. If anything is wrong with a string, from the way it's secured around the ball end, through the entire winding, it doesn't make the cut.
WHAT DOES ALL THAT MEAN FOR YOU?
✓ Excellent tuning stability for the life of the string
✓ A brighter, more pronounced sound from the guitar
✓ Smoother, more balanced playability across the neck of the guitar
---
We Also Recommend
---