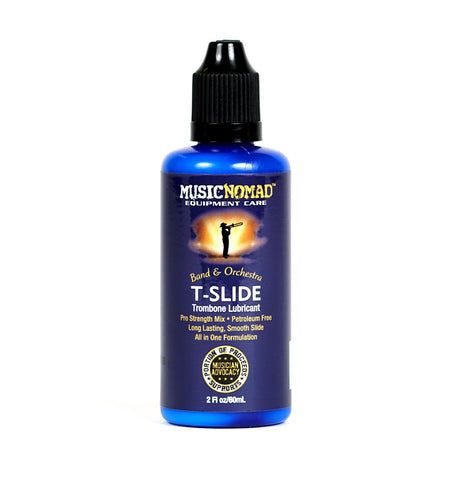 Music Nomad T-Slide Trombone Lubricant - Petroleum Free (2 oz.) MN704
Product Description
 

Petroleum Free Pro Strength Mix

Long Lasting, Smooth Slide for your Trombone without any Buildup

Innovative Blend of Water and Synthetic Oil Emulsion

Infused with Anti-Corrosion Ingredients & Microbiostat Preservatives

Large 2 oz. Size Bottle
Product Story
Music Nomad's innovative T-Slide mix contains a proprietary blend of water and synthetic oil emulsion. Infused with anti-corrosion ingredients and microbiostat preservatives, this odorless and petroleum free formulation gives a long lasting, super smooth slide without any buildup. Trombones slide on! Music Nomad makes over 30 premium instrument care products used world wide by musicians, instrument makers, techs, repair shops, and collectors.
Testimonials
Musician Mike McKaigg had this to say about our T-Slide Lubricant for Trombones
I've been using the T-slide lubricant on my trombone the last few weeks and I love it. I don't even need to spray any water on the slide and it moves completely free of any friction. Great stuff!
Music Nomad Products Are Used In These Factories And Many More:
---
We Also Recommend
---