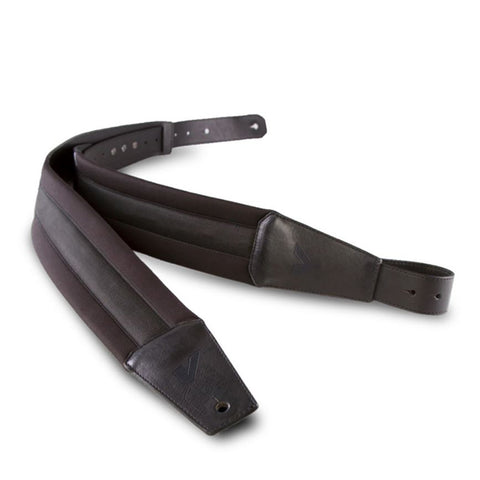 Gruv Gear DuoStrap Neo - Ergonomic Double Strap for Guitar & Bass
Product Description
Proven comfort. At a more comfortable price.

This is what you've been waiting for: The DuoStrap Neo is our answer to the search for the most comfortable, ergonomically-correct, AND affordable guitar and bass strap. Endorsed by professionals including Dr. Randall Kertz, renowned chiropractor and physician, the DuoStrap's patent-pending balanced weight distribution offers unmatched comfort like its Signature counterpart, thoughtfully constructed with synthetic materials! Significantly reduces shoulder pain and strain while keeping a natural and comfortable playing position.

The DuoStrap Neo comes in all-black 3.25" wide soft-rolled neoprene, with lengths adjustable from 33" to 44" and an extra-long option that brings the total usable length to 51".

DuoStrap setup instructions (PDF)
Tension Strap option setup (PDF)
"...a lifesaver"
"This DuoStrap by Gruv Gear has been a lifesaver for me! My new 6-string bass is heavy and having a 3 pronged strap balances the bass perfectly and protects my neck and shoulders!!!!"
~ Bass legend John Patitucci
"There's nothing worse than when the shoulder ache sets in at a covers gig after hour two of playing, but thankfully the DuoStrap is perfect for anyone playing for hours on end. The dreams of playing your hefty Les Paul Custom live are now a reality without the fear of putting your back out."
NICHOLAS SIMONSEN, MIXDOWNMAG.COM
---
We Also Recommend
---