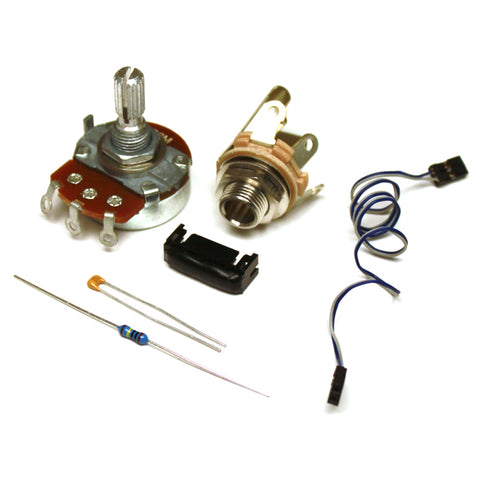 Graphtech Ghost Passive Volume Kit PE-0400-00
Product Description

ThePE-0400-00lets you connect ghost saddle pickups directly to the supplied stereo 1/4" output jack. One side for your magnetic pickups and the other side for the ghost pickups. No batteries required, although we recommend an outside piezo preamp for ultimate acoustic tone.
The Passive Volume Kit includes a high-impedance volume pot and other components that help impedance-match your acoustic pickups to your amp, to prevent loss of high frequencies (muffled sound).
The capacitor is used to prevent the loss of higher frequencies as a pot is turned down, it is sometimes accompanied by a series or parallel resistor, to limit the amount of treble being retained and to match it to the pot's taper. They are not necessary in every install.

ThePassive Volume KitIncludes:
PD-0103-00 Switchcraft 12B stereo output Jack
PD-0105-00 2 Meg Volume Pot
PD-0104-00 1 Meg Resistor
PD-0102-00 330 pF Capacitor
PE-5017-00 Summing Board
PE-5021-00 Dual Connector Cable
Ghost Pickup Frequently Asked Questions
Passive Volume Kit Installation Instructions
GHOST MODULAR PICKUP SYSTEM
PLAY THE IMPOSSIBLE!
Be the band with the ghost modular pickup system. Get studio quality acoustic tone or MIDI compatible output at the flick of a switch. Finally an affordable, modular pickup system in an easy to install package.
ACOUSTI-PHONIC
Imagine a rich, authentic acoustic guitar tone coming from your electric guitar - at the flick of the switch! Replace your current saddles with Graph Tech's ghost modular pickups and one of our Acousti-Phonic preamp and you'll have instant access to true, acoustic tone from your electric guitar or bass, without altering your electric pickups. With the ghost Acousti-Phonic system you can play one guitar! It can be electric AND acoustic, separately, or blended together for an infinite range of new and exciting sounds.

[Video] Graph Tech ghost Acoustic MIDI System - Guitar World
HEXPANDER
The ghost Hexpander MIDI interface system adds MIDI capability to almost any guitar or bass. Plug your guitar into pitch-to-MIDI converters by Roland or Axon and enter the MIDI sound universe. The Hexpander MIDI interface provides responsive and accurate tracking unequaled be any other system on the market today. Check out how affordable and easy it can be to make MIDI part of your music making.
WHAT ARE PEOPLE SAYING?
"Because it's installed in my favorite guitar, there is no compromise in playability but I get all of the flexibility of MIDI> This is the perfect situation because I don't need to switch between a "real guitar" and a MIDI guitar. I can layer the pick up sound with the MIDI sounds, or just do one at a time. The piezo pick up is an added bonus--with one guitar I can enter MIDI, add electric guitar AND acoustic sounds. I'm really looking forward to the possibilities this new system could inspire!"James Valentine, Guitarist, Maroon 5
---
We Also Recommend
---