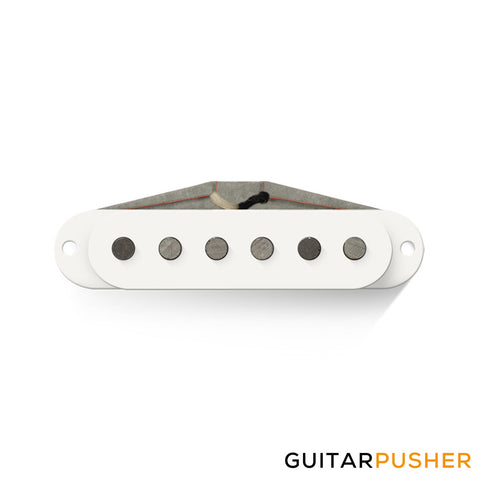 Bareknuckle Trilogy Strat Bridge Pickup, Flat Profile, Zinc Base, White
Product Description
TRILOGY SUITE SINGLE COILSTRAT
THE TRILOGY SUITES ARE A HIGH OUTPUT SET OF SINGLE COILS WITH A MUSCULAR 'P90-ESQUE' TONE DEEP, RESONANT BASS, WIDE MID RANGE RESPONSE AND A TOTALLY MODERN VOICE.
Trilogy Suite single coils are designed for players who want anything but a vintage tone. They have all the character and extended frequency response of a true single coil, partnered with a hot wind of modern polysol wire and Alnico V rods. The result is a high output Strat set with real contemporary character. A slightly more compressed dynamic means single notes have incredible sustain, and when used with an overdriven amp they create a rich, saturated tone with big harmonic overtones. The highs remain full and clear no matter how much preamp gain is applied, while low notes are defined and focused. Back off the overdrive and the Trilogy Suite set clean up perfectly and judicious use of the volume pot accesses a huge range of modern
SPECIFICATIONS FOR THIS STOCK
Bridge Pickup

Flat Profile
Standard Polarity

White Cover
Zinc Base Bridge Plate
APPLICATIONS
Jazz, Fusion, Alternative, Hard Rock, Progressive, Heavy Metal.
SUITABILITY
Alder, Swamp Ash and mahogany body Strats style guitars: ideal for adding extra body to basswood and equally at home with maple, rosewood and even ebony boards.
SPECIFICATION
Position:Bridge
DC Resistance:15.5 k½
Magnet:Alnico 5
Position:Middle
DC Resistance:12.5 k½
Magnet:Alnico 5
Position:Neck
DC Resistance:12.5 k½
Magnet:Alnico 5
TRILOGY SUITE SINGLE COILSTRAT OPTIONS
Vintage stagger or flat magnet profile.
Stock wound or RWRP mid coil (for hum-cancelling in 2&4).
Zinc plated steel baseplates for extra power and bottom end.
White, Black, Parchment, Cream, Mint Green covers or fully aged coils and covers
---
We Also Recommend
---