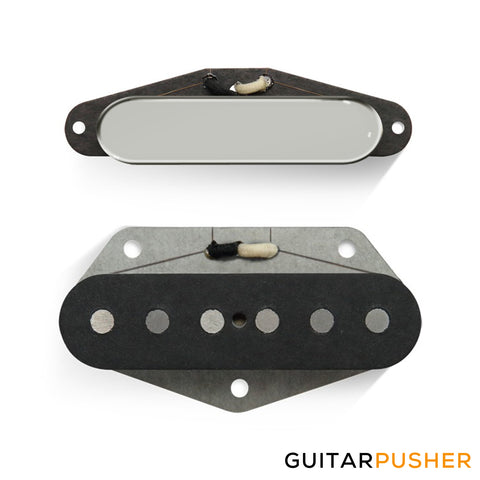 Bareknuckle The Boss Calibrated Tele Pickup Set, RWRP Nickel
Product Description
THE BOSS
 

TELE

The Boss is a genuine rhythm powerhouse of Tele® performance with a huge range of rounded, muscular tones and traditional Tele® character.

The idea behind The Boss Tele® set was to take the 42 AWG plain enamel wind of the bridge coil to the max without compromising definition or the authentic twang and grind of a true Tele® pickup. The result is a fat, driving set of coils that can still be cleaned up by rolling back on the volume pot, offering up a massive variety of Tele® tones, which span clean Country through hot Rock and beyond. The higher output provides a lot more bass response than would normally be expected and a more compressed dynamic, creating a deep tone with excellent sustain. The high-end is sweet and warm and the mids are fat with rich harmonic detail. The neck coil has been wound to balance perfectly in output and sound, available with traditional neck cover or open coil to suit the application. As with all of the Tele® coils in the range, hook-up is vintage cloth 'push back' and the bridge coil features a copper plated steel baseplate.
APPLICATIONS
Blues, Country, Jazz, Indie, Pop, Garage, Hard Rock.
SUITABILITY
Well suited to brighter Telecasters, especially those with maple fingerboards.
SPECIFICATION
Position: Bridge
DC Resistance: 8.2 kΩ
Magnet: Alnico 5
Position: Neck
DC Resistance: 7.3 kΩ
Magnet: Alnico 5
---
We Also Recommend
---