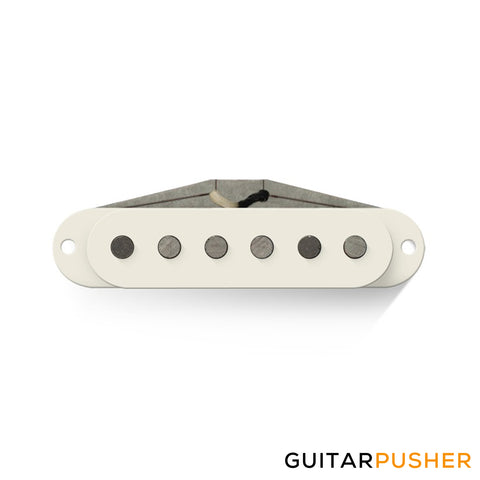 Bareknuckle Strat Mother's Milk Middle, 6-string Flat Profile, RWRP, Parchment White
Product Description
THE MOTHER'S MILK SINGLE COIL STRAT
MOTHER MILK IS A BRIGHT AND PUNCHY MID '60S VOICED STRAT COIL SET; SOLID BASS RESPONSE, A DYNAMIC, WOODY CHARACTER AND WITH A FANTASTIC SNAP IN THE HIGH-END.
The Mother's Milk single coils are a combination of the larger diameter Alnico V magnetic rod of the late '50s and the introduction of 42AWG plain enamel wound coils with the CBS takeover at Fender. The hand-bevelled magnets and scatter-wound coils produce a tighter, deeper bottom end with clear, full highs that really sing when overdriven and never sound thin or brittle. Mid-range is hollow and woody, with a little more grit and edge compared to Heavy Formvar wound coils, for a crisp clean tone and more distinctive blues rock voice. As with all the Strat sets the bridge coil is wound slightly hotter for improved balance; vintage cloth 'push back' hookup is standard and there is a choice of stock or RWRP mid-coil.
SPECIFICATIONS FOR THIS STOCK
Calibrated Set
Parchment White Covers
Vintage Stagger
RWRP reverse wound middle pickup for hum-cancelling 2 and 4 position
Zinc base bridge for deeper bass on the bridge pickup
APPLICATIONS
Country, Blues, Funk, Indie, Reggae, Pop & Classic Rock
SUITABILITY
Well suited to rosewood board and warmer Alder and Ash body Strats.
SPECIFICATION
Position:Bridge
DC Resistance:6.5 k½
Magnet:Alnico 5
Position:Middle
DC Resistance:5.7 k½
Magnet:Alnico 5
Position:Neck
DC Resistance:5.7 k½
Magnet:Alnico 5
THE MOTHER'S MILK SINGLE COILSTRAT OPTIONS
Vintage stagger or flat magnet profile.
Stock wound or RWRP mid coil (for hum-cancelling in 2&4).
Zinc plated steel baseplates for extra power and bottom end.
White, Black, Parchment, Cream, Mint Green covers or fully aged coils and covers
---
We Also Recommend
---