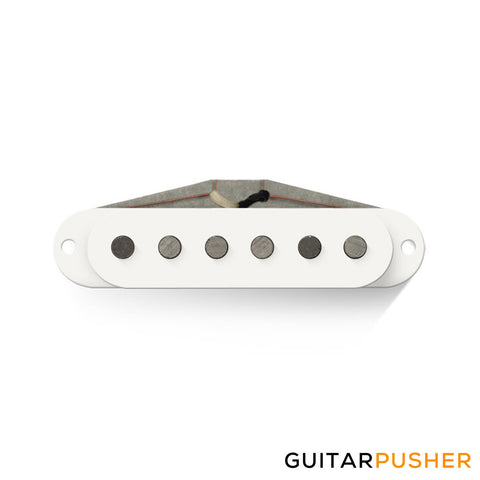 Bareknuckle Slow Hand Neck Strat Pickup, Vintage Staggered, White
Product Description
SLOW HAND SINGLE COILSTRAT
THE SLOW HAND SET ARE HIGHER OUTPUT VINTAGE STRAT SET WITH A MODERN EDGE TO THE VOICING FOR A MORE DRIVEN TONE AND INCREASED MID-RANGE PRESENCE OVER VINTAGE SPEC PICKUPS.
The Slow Hand set of calibrated single coils use hand bevelled Alnico V magnets and modern polysol wire for stronger, darker mids and a fatter tone. Scatter-winding maintains clarity throughout all frequency ranges while the higher DC resistance extends the bass and produces a more controlled high-end. Taking the spirit of the Irish Tour coils one step further, the Slow Hand coils have a definite British blues rock voice capable of pushing an amp into that wonderful 'just breaking up' tone. High notes get fatter as amp volume is increased and more preamp gain produces a lovely natural sustain with excellent crunch tones. Extremely well suited to maple board Strats, the Slow Hand set also cleans up nicely when the volume is rolled back.
SPECIFICATIONS FOR THIS STOCK

Neck Pickup

White Cover
Vintage Staggered Pole Pieces
APPLICATIONS
Blues, Funk, Indie, Pop, Garage, Punk, Hard Rock.
SUITABILITY
Brighter Alder and Ash body Strats, maple boards or any Strat that would benefit from a fatter vintage tone with more control in the high-end and increase output over traditional vintage coils.
SPECIFICATION
Position: Bridge
DC Resistance: 7.6 k½
Magnet: Alnico 5
Position: Middle
DC Resistance: 6.5 k½
Magnet: Alnico 5
Position: Neck
DC Resistance: 6.5 k½
Magnet: Alnico 5
SLOW HAND SINGLE COILSTRAT OPTIONS
Vintage stagger or flat magnet profile.
Stock wound or RWRP mid coil (for hum-cancelling in 2&4).
Zinc plated steel baseplates for extra power and bottom end.
White, Black, Parchment, Cream, Mint Green covers or fully aged coils and covers
---
We Also Recommend
---