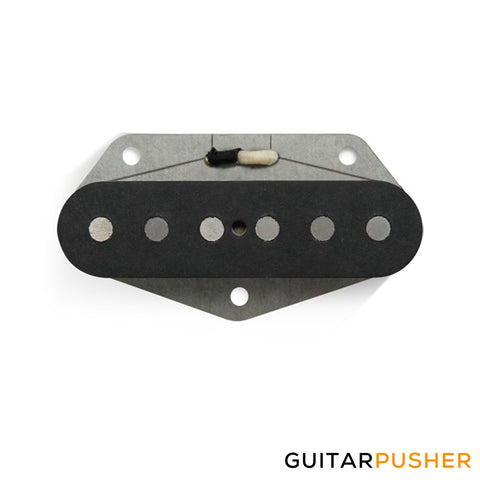 Bareknuckle Piledriver Tele Bridge Pickup
Product Description
PILEDRIVER TELE
THE PILEDRIVER HAS HIGH OUTPUT SLEDGEHAMMER PERFORMANCE AND IMPACT WITH MASSES OF FULL, FAT DRIVE AND TRUE SLAB-BODIED GRUNT.
These coils have the output of a hot humbucker and all the frequency response of a true single coil, which makes them perfect for the modern player looking for the ultimate hot Tele¨ coil set.
The Piledriver Tele¨ set sacrifices none of the original Tele¨ character in the pursuit of well-defined power. Rich and deep bottom end combine with fat single coil clarity for a truly versatile set of high output pickups.
Designed with the modern Tele¨ player in mind, the Piledriver set has a throaty mid range and fuller, sweeter highs so that fast riffing has a real edge and single note work really punches through. Although the Piledriver output will give any humbucker a run for its money, the voice is pure Telecaster¨ with a rounder, darker twang and a fatter snap in the bass. Clean playing has plenty of depth and a warmer, treble response compared to lower output vintage coils, while overdriven tones are strong, capable of controlled harmonic feedback and tremendously tight crunch tones. The bridge coil uses a slightly thicker zinc plated steel baseplate for extra definition and punch while the calibrated neck coil is available in traditional neck cover or open coil as required.
SPECIFICATIONS FOR THIS STOCK
Bridge Pickup
Standard Polarity

APPLICATIONS
Blues, Garage, Hard Rock, Progressive Rock, Shred and Heavy Metal.
SUITABILITY
Well suited to brighter Telecasters, especially those with maple fingerboards; players looking for a high output Tele set that still retains true Tele character.
SPECIFICATION
Position: Bridge
DC Resistance: 13.1 k

Ω

Magnet: Alnico 5
Position: Neck
DC Resistance: 7.4 k

Ω

Magnet: Alnico 5
PILEDRIVERTELE OPTIONS
Stock wound or RWRP neck coil.
Chrome, nickel or gold neck covers.
Separate ground wire on the neck cover for use with 4 way Tele switch.
---
We Also Recommend
---