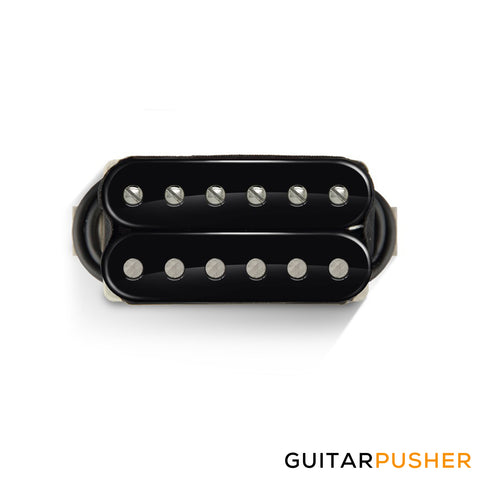 Bareknuckle Humbucker Stormy Monday Neck, 6-string Open Black w/ Nickel Screws, 4-Con
Product Description
STORMY MONDAY HUMBUCKER
THE STORMY MONDAY IS A SWEET, ARTICULATE HUMBUCKER WITH WARM BASS, HOLLOW MIDS AND SMOOTH HIGH END THAT IS EXTREMELY CLEAR AND DYNAMIC.
Authentically vintage in both voicing and output, the Stormy Monday humbucker is completely handwound with vintage correct 42 AWG plain enamel wire and handcrafted with butyrate bobbins, calibrated sand cast Alnico II magnet, solid nickel silver baseplate and cover.
As with the early 'Patent Applied For' (PAF) humbuckers, the coils are wound asymmetrically for extended frequency response and touch sensitive feel. The Stormy Monday faithfully reproduces the tones of the brighter '57 and '58 era PAFs with smooth natural sustain, wonderful pick dynamics and string separation. Low notes have warmth and fullness; the highs are sweet and mellow while the mids are slightly scooped producing a soft, percussive vintage tone.
Available in all our open coil and covered custom finishes.
SPECIFICATIONS FOR THIS STOCK
Bridge Pickup Nickel Covers
53mm F-Spaced string spacing for Strats/Superstrats or any guitar with Fender type fixed bridge or Floyd/tremolo bridge
Potted
Nickel Screws
4-Conductor
Short leg fits most guitars
APPLICATIONS
Blues, Country, Jazz, Funk, Indie, Reggae and Classic Rock
SUITABILITY
All solid-body guitars, semi-acoustic and hollow-body guitars or any guitar that would benefit from a warmer, brighter and more dynamic vintage tone.
SPECIFICATION
Position:Bridge
DC Resistance:7.7 k½
Magnet:Alnico 2
Position:Neck
DC Resistance:7.1 k½
Magnet:Alnico 2
STORMY MONDAYHUMBUCKER OPTIONS
Unpotted or potted
Available in 6, 7, 8 String.
Individual bridge, neck or calibrated bridge & neck set.
Standard or wide space bridge.
Vintage long leg (1/2") or modern short leg (1/4").
Braided 2 conductor or 4 conductor hookup.
Bobbin colours: Available in all our custom open humbucker colours
Covers: Available in all of our custom covered finishes.
---
We Also Recommend
---