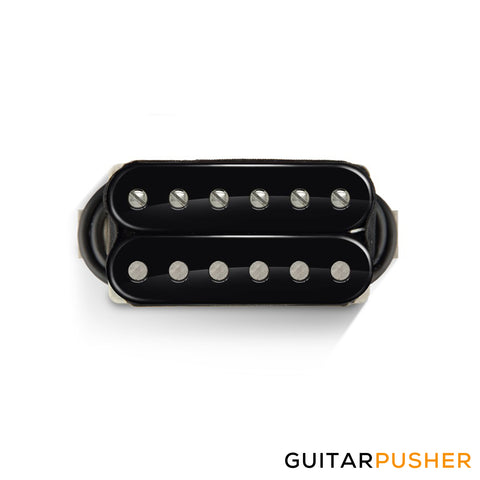 Bareknuckle Emerald Neck Humbucker Pickup, Black, 4 conductor
Product Description
EMERALD
Punchy mids and crisp bottom-end give this Alnico V  powered humbucker a distinctive blues-rock character with great attack.
The moderate output of the Emerald humbucker allows for a more open and clear high-end compared to hotter pickups especially when used with high amounts of preamp gain. Plain enamel hand-wound coils keep the bottom-end tight and controlled while maintaining presence in the highs with excellent pick articulation and sweet harmonics. Clean tones are tight and percussive with a clean edge to the front of each note. 

When used with overdrive the Emerald will saturate really well, never sounding dark or losing definition, producing a hard-hitting crunch tone. 

Available in all our open coil and covered custom finishes.
SPECIFICATIONS FOR THIS STOCK
Neck pickup
Nickel Screw pole pieces
50mm Standard spacing
Open Coil, Black
Short Leg fits most guitars
APPLICATION
Blues Rock, Garage, Punk, Grunge, Alternative, Classic Rock, Heavy Rock and even progressive Shred.
SUITABILITY
Equally at home on any solid-body guitar or any guitar requiring a fuller tone while maintaining a very open high-end.
SPECIFICATION
Position: Bridge
DC Resistance: 12.7 kΩ
Magnet: Alnico 5
Position: Neck
DC Resistance: 9.6 kΩ
Magnet: Alnico 4
---
We Also Recommend
---