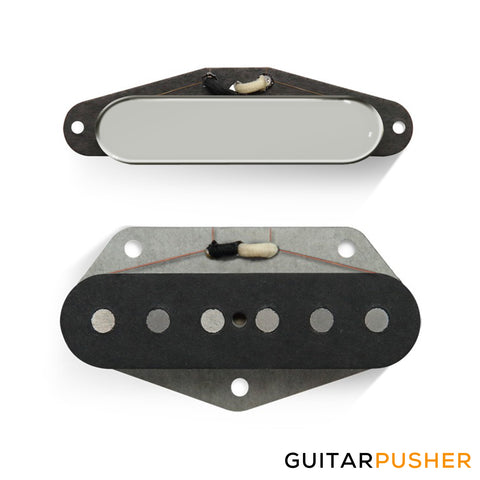 Bareknuckle Brown Sugar Calibrated Tele Pickup Set, RWRP, Nickel
Product Description
BROWN SUGAR
 

TELE
THE BROWN SUGAR IS A VINTAGE HOT TELE® SET WITH CLASSIC MID RANGE GRIND, TIGHT BASS AND CHARACTERISTIC BITE IN THE HIGH-END. WELL SUITED TO PLAYERS LOOKING FOR AUTHENTIC TELE® TONES WITH A DISTINCT ROCK VOICE.
This pickup has been voiced entirely to capture a tonal vibe rather than any specific vintage era, and the Brown Sugar Tele® set oozes rock'n'roll attitude. Scatter-wound with polysol wire for extra output and a more pronounced mid-growl, the treble response is bright and percussive with a fast pick attack. The copper plated steel baseplate on the bridge coil keeps the bass response tight with low notes, retaining the pickup's depth and punch, while the neck coil has a complementary warm and woody tone. Clean tones have a bright snap to the front of each note, darker than lower output Tele® coils with a fuller single note tone. The intentional rock voicing of the Brown Sugar set suits a wide range of driven tones from mild break up through to full saturation with an overdriven amp, and full wax potting ensures no microphonic squealing.
SPECIFICATION FOR THIS STOCK
Calibrated Telecaster Pickup Set

RWRP - reverse wound neck for hum-cancelling middle position
Compatible with 4-way switching for parallel and series neck+bridge pickup mode using a 4-way switch


PICKUP MEDIA SECTION
APPLICATIONS
Blues, Indie, Pop, Britpop, Punk, Hard Rock.
SUITABILITY
A good choice for warmer sounding Telecasters particularly well suited to rosewood boards; any Tele that needs some extra grind in the mid range and increased output.
SPECIFICATION
Position:

 

Bridge
DC Resistance:

 

7.6 kΩ
Magnet:

 

Alnico 5
Position:

 

Neck
DC Resistance:

 

7 kΩ
Magnet:

 

Alnico 5


MID
BROWN SUGAR
 

TELE OPTIONS
Stock wound or RWRP neck coil.
Chrome plated deep drawn brass neck covers.
Black / gold plated / nickel plated nickel silver neck covers.
Separate ground wire on the neck cover for use with 4 way Tele switch.
---
We Also Recommend
---