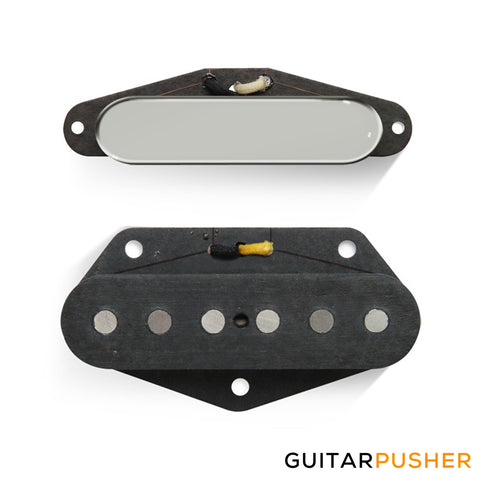 Bareknuckle Blackguard Tele Flat '52 Calibrated Set, RWRP
Product Description
BLACKGUARD TELE¨ SERIES - FLAT '52TELE
BASED ON PLAYER REQUESTS FOR TELECASTER¨ TONES FROM SPECIFIC ERAS AND BACKED UP BY METICULOUS RESEARCH, THE BLACKGUARD TELE¨ SERIES IS A COLLECTION OF FOUR CLASSIC TELE¨ SETS RANGING FROM THE ORIGINAL 'BLACKGUARD' TELES¨ OF 1950 THROUGH TO LATER 1968 MODELS.
For a very short period in '52 both bridge and neck coils were wound with 42AWG plain enamel, and the Flat 52 set replicates this with a brighter, tighter sounding bridge coil and an open, almost Strat-like neck tone. Utilising the slightly thinner, copper plated steel baseplate introduced in late '51, whilst staying with a flat profile magnet design and deep drawn neck cover, the tone has a defined snap in the bass and authentic, full twang. The Flat '52 is a very unique and versatile Tele¨ set capable of a vast range of clean and driven vintage tones.
SPECIFICATION FOR THIS STOCK
Calibrated Tele Pickup Set

RWRP Reverse wound for hum-cancelling middle position
4-way mode compatible for wiring parallel and series neck+bridge pickup
APPLICATIONS
Blues, Country, Jazz, Funk, Indie, Pop, Britpop, Classic Rock.
SUITABILITY
The Flat '50 and Flat '52 set are well suited to maple boards or any application that requires extra output and a fatter tone. The '55 and '68 Stagger sets are best suited rosewood board Teles or any Tele that would benefit extra cut in the highs.
SPECIFICATION
Position: Bridge
DC Resistance:7.1 kΩ
Magnet: Alnico 5
Position: Neck
DC Resistance: 5 k

Ω

Magnet: Alnico 5
BLACKGUARD TELE¨ SERIES - FLAT '52TELE OPTIONS
For compatibility with other Tele coils the Blackguard Series are wound top going top right, south polarity. Original wind direction and polarity can be arranged if desired.
Stock wound or RWRP neck coil.
Chrome, nickel or gold plated deep drawn brass or solid nickel silver neck covers.
Separate ground wire on the neck cover for use with 4 way Tele switch.
---
We Also Recommend
---