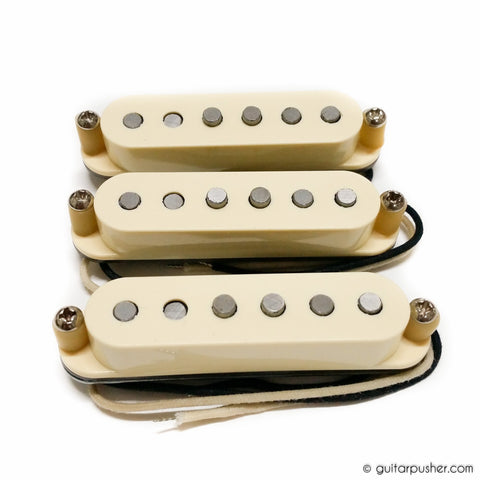 Bareknuckle Apache Strat Pickup Set RWRP Vintage Stagger - Cream
Product Description
APACHE SINGLE COIL
 

STRAT
THE APACHE IS A PURE, FULL-BODIED EARLY '50S SINGLE COIL SET WITH EXCEPTIONAL NATURAL SUSTAIN AND LOW STRING PULL FROM THE ALNICO III MAGNETS.
Apache single coils are based on the rounder, fatter tones of the original '54 to '57 coils. They have a deep bottom end with a bell-like chime in the highs, and rich, wide, mid-range produce a crystal-clear clean tone without ever sounding harsh or thin. Overdriven tones sound full and crunchy with plenty of body for single note work. Scatter-wound by hand with vintage correct Heavy Formvar wire, the bridge coil is wound a little hotter to give better balance across the set. The calibrated Alnico III magnets are hand-bevelled and set in fibre board flat work in either the original '54 stagger with low G magnet, or the more common '56 stagger. The low magnetic pull of the Apache allows for excellent dynamics and perfect intonation.
Published on 1 Aug 2016
"Edgy, fruity, spiteful, sweet, clanging and huge are all words that try, but don't quite manage, to describe this excellent set of pickups."
SPECIFICATIONS FOR THIS STOCK
Calibrated Strat Pickup Set

Cream Covers
Vintage Staggered Pole Pieces
RWRP reverse wound middle pickup for hum-cancelling 2 and 4 position
APPLICATIONS
Country, Surf, Jazz, Blues, Funk, Indie, Pop & Classic Rock
SUITABILITY
Particularly well suited to maple board Strats with light ash bodies but equally at home in alder with rosewood boards.
SPECIFICATION
Position:

 

Bridge
DC Resistance:

 

6.4 kΩ
Magnet:

 

Alnico 3
Position:

 

Middle
DC Resistance:

 

5.6 kΩ
Magnet:

 

Alnico 3
Position:

 

Neck
DC Resistance:

 

5.6 kΩ
Magnet:

 

Alnico 3
APACHE SINGLE COIL
 

STRAT OPTIONS
Vintage stagger or flat magnet profile.
Stock wound or RWRP mid coil (for hum-cancelling in 2&4).
Zinc plated steel baseplates for extra power and bottom end.
White, Black, Parchment, Cream, Mint Green covers or fully aged coils and covers
---
We Also Recommend
---