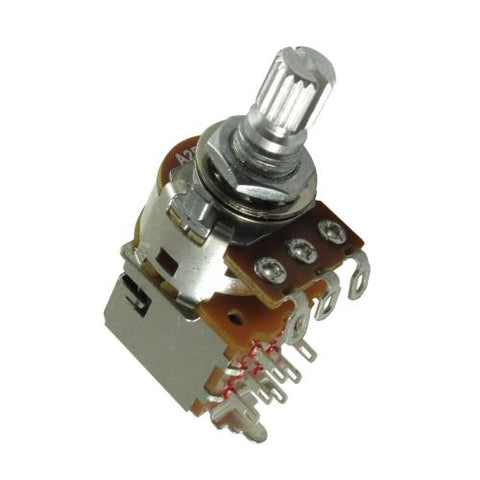 Alpha Push Pull Potentimeter US Size 9.5mm hole Tall Bushing 3/8 inch Audio Taper 250k 500k
Product Description
Time to replace your pots with the time-tested factory potentiometer - Alpha.

Alpha is an industry name in affordable but reliable potentiometers.
Push-Pull potentiometer is commonly used to do coil-splitting of humbucker pickups to produce single coil sounds from one of the coils of your humbucker pick up.  This is achieved by shunting (shorting) one of the coils to ground using the DPDT switch of the push-pull.  It can also be used to do series-parallel humbucker operation and many more.  Please make sure that your humbucker has at least 3 wires to perform coil-split operation, or 4 wires for series-parallel wiring.
250k is best used with single coil pickups such as strat, tele, Jazz Bass, P-Bass. 
500k is best used with humbucking pickups such as Les Paul, SG, Modern Guitars, Metal Guitars and Humbucker-equipped passive bass guitars. 
Metric 8mm bushing diameter is perfect for Asian-made guitars with small hole such as Ibanez, Squier, JCraft, Cort, Tagima, Epiphone, Elegee, D&D, etc. 
Specs for this Stock:
Value
250k 500k (pls select Variant)
Type
Mini body with DPDT Switch

Bushing Diameter
9.5mm

Bushing Length

3/8 inch - fit wood top guitars

It can be fitted for 1/4 applications for pickguard or control plate mount by adding a nut

Taper
Audio (Log) Taper
Shaft
24 Fine Spline, Split Shaft (fits US made knobs)
Torque
High Torque
---
We Also Recommend
---