Wampler EQuator Advanced Audio Equalization Pedal
Product Description
Wampler EQuator
The often overlooked EQ pedal is one of the most powerful devices that you can place in your rig. And if the constant demand for one from Wampler fans is any indication, we admit that the introduction of the Wampler EQuator may be a bit overdue. But we knew that if we wanted your attention, we'd have to take our time to create an EQ pedal with the player-friendly ease of use and demand for top quality that Wampler strives for every day. Instead of the learning curve that can accompany individual sliders for each frequency, we gave you fixed bass and treble controls and two semi-parametric mid controls that are as easy to harness as twisting a few knobs
Each knob's frequencies have been carefully defined (with the sweet spots marked) for the needs of players and to offer one of the most flexible EQ pedals out there. Whether you're wanting a fully customizable clean boost, the ability to fine-tune the tone of another pedal, or to just bring out the best in your guitar, bass or ANY instrument you choose to plug into it - we crafted the Wampler EQuator to be the tonal sweetener you need to get the job done…  Even if you don't use a pedalboard and are not a guitar player - put this between your instrument and the amp, the P.A., or recording interface… the EQuator will bring it to life.
The pedal for every kind of musician
With its precise frequency control, ample output, and compact design, there isn't a musician out there who wouldn't benefit from adding an EQuator to their rig. Bring up only the mid frequencies you want to help your instrument be alive in the mix, dial back the highs to tame any kind of harshness from the room – you can even completely change the character of your favorite drive pedal. With its sheer versatility, the Wampler EQuator will quickly become your not-so- secret weapon.
Find your tone, fast
We designed the EQuator around the needs of the player, refusing to riddle it with too many small sliders or overly complicated switching. Nailing the tone you desire is an intuitive affair that you'll find invaluable in the heat of a performance. Whether onstage or in the studio, time is at a premium. Get your perfect tone faster with the Wampler EQuator.
It's all about the width
It's not about high mids, or low mids… it's about ALL the mids. With 2 mid controls that cover the entire spectrum, all you have to decide is how wide you want the Q on each. Mids 2 has a much wider Q so it can act like a 'screamer if you want, Mids 1 has a thinner Q so you can the take a little out of a frequency if needed… it's all about the control.
Built for Forever
Brian Wampler's attention to detail and commitment to bringing you the best-sounding & most usable Effects Boxes on the market is nothing new. Those qualities are on full display within the EQuator. We're all tone-freaks, and we're always trying new things, but we hope this pedal finds it's forever home on your pedalboard, so we built it to last that long.
Tech Specs:
Built in the U.S.A.
Battery connection and 9v-18v power jack
High-grade components selected for their superior sound and response
Powerful 4 band EQ with 2 parametric mid controls to perfectly sculpt your instruments core tone
Top-mounted jacks make pedalboard placement effortless
Power draw: 23.9 mA @ 9V and 31.9mA @ 18v (LED will flash 3 times when power from battery is getting low)
2.5″ x 4.50″ x 1.5″ (63.5mm x 114.3mm x 38.1mm) – height excludes knobs and switches
Includes Wampler's limited 5-year warranty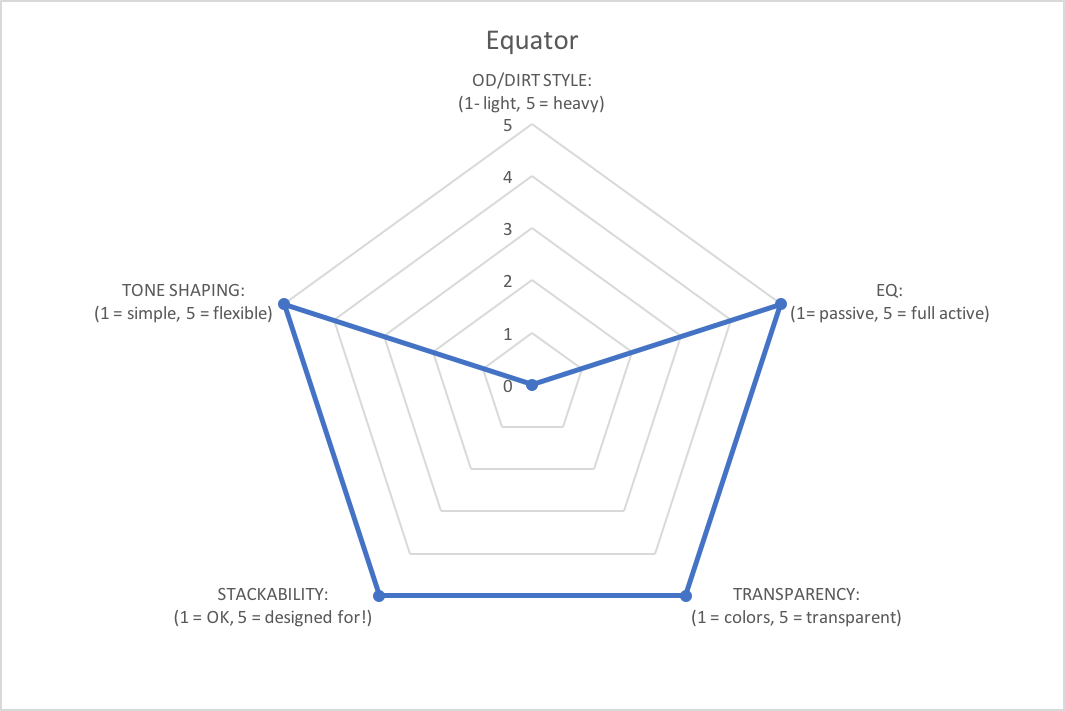 ---
We Also Recommend
---