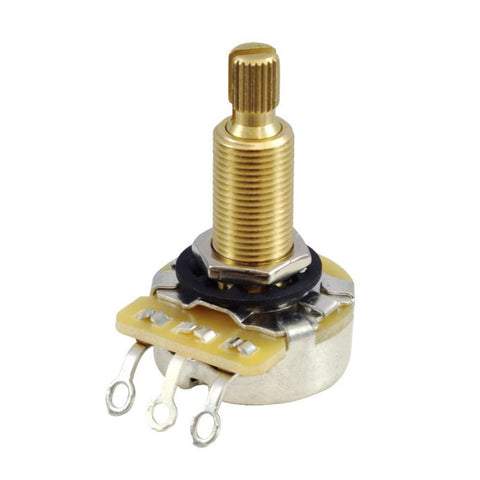 CTS 500k Potentiometer US Size 9.5mm Hole 3/4 inch Long Vintage
Product Description
Time to upgrade your guitar with this high-quality potentiometer!

CTS is an industry name in potentiometers- this is the brand that pretty much every American guitar company has used since the 1940s.
500k is best used with humbucking pickups such as Les Paul, SG, Modern Guitars, Metal Guitars and Humbucker-equipped passive bass guitars. 
US 9.5mm bushing diameter and 3/4 long bushing height fits guitars with thick wood top, usually used on vintage Les Pauls.  You may not need to use this unless your guitar has a really thick wood top.
Specs for this Stock:
| | |
| --- | --- |
| Value | 500k |
| Type | Standard Big Body |
| Bushing Diameter | 9.5mm (fits US size, but can be retrofitted for Metric by widening the hole) |
| Bushing Length | 3/4 inch, will fit most wood top, especially thick top guitars (need additional nut to fit the bushing perfectly).  Not recommended for strat, tele, jazz bass, pbass or any guitar with pickguard or control plate. |
| Taper | Audio (Log) |
| Shaft | 24 Fine Spline, Split Shaft (fits US size knobs) |
| Torque | High Torque |
---
We Also Recommend
---